Back

Gear.com has 100% perfect five-star reviews on Trustpilot.
DESCRIPTION
"RAIN JACKET MEETS A BATMAN SUIT" - MEN'S JOURNAL 
The Alpha Series jacket sets a before and after in all-round clothing. After crushing its debut on Kickstarter and being sold in over 70 countries in one month, the Alpha Series jacket is back. 
Graphene is integrated into the shell face adding superlative abrasion resistance and self-regulating heat retention to keep you warm when cold and fresh when you need to get active while remaining extremely lightweight. The 3-layers in this jacket come together to deliver unparalleled performance.
Absolutely waterproof, lightweight, and with the highest levels of breathability. This jacket is perfectly "scienced" to last.
Sizing

| | | | | | | |
| --- | --- | --- | --- | --- | --- | --- |
| INCHES | XS | S | M | L | XL | XXL |
| Chest | 40 | 43.0 | 46.0 | 49.0 | 52.0 | 56.0 |
| Hem | 38.5 | 41.5 | 44.5 | 47.5 | 50.5 | 54.5 |
| | | | | | | |
| --- | --- | --- | --- | --- | --- | --- |
| CENTIMETERS | XS | S | M | L | XL | XXL |
| Chest | 102 | 109 | 117 | 124 | 132 | 142 |
| Hem | 98 | 105 | 113 | 121 | 128 | 138 |
*Measurements are of the product, not your body's -when picking the right size, add 3 inches (7,6cms) for a slim fit, 5 inches (12,7cms) for a regular fit, and 8 inches (20,3) for a loose fit - to your body measures, then check the size chart*​
Features

Extremely durable & abrasion resistant
Lightweight
Waterproof
Breathable
Windproof
Moisture absorption
Antibacterial
Anti-UV
YKK zippers (all)
Pit zippers
Drop back hem
Taped seams
RECCO® Reflector device
Protective collar with invisible adjusters
Materials, Specs & Graphene

Shell Face: 48% Nylon, 30% Graphene-integrated polyester and 22% cotton. PU membrane. Lining: 100% polyester
Weight: 600 grams (size M)
Graphene is integrated with the polyester threads on the shell face of the jacket
Integrated with the world's toughest and thinnest material
The Alpha Series jacket is no regular jacket. It's shell face is empowered with Graphene, the toughest (and lightest) material on Earth. Many have started talking about the coming "age of Graphene" and how this material will disrupt the world. Graphene X has worked hundreds of iterations to see how to empower the Alpha Series shell face with Graphene and the efforts have paid off. Sourcing the best Graphene out there and properly integrate it to fabrics is no easy task, this is why the Alpha series jacket takes over 4 months to be manufactured.
Engineered to last a lifetime
Graphene's tensile strength is 200x stronger than the one you find in steel and this becomes evident when you test the abrasion resistance of the Alpha Series jacket. They ran the Martindale Abrasion and Pilling test on the Alpha Series jacket (a test designed to test how the fabric holds up after X amount of rubs that simulate wear) and after 50.000 rubs the fabric was as good as new. As a reference military grade gear is required to withstand 20.000 rubs to be fit for duty.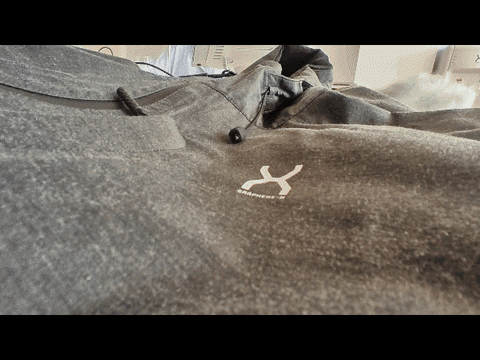 Superlative thermal distribution
Graphene radiates Far Infrared Energy (FIR) almost identically as the human body. This leads to incredibly efficient heat management. The Alpha Series jacket has been tested accompanied with just a t-shirt in temperatures of 5 Celsius (41 Fahrenheit) and felt comfortable. Humidity, wind and even your own metabolism can change your comfort levels so consider using a mid-layer like the GRAnaREC if your adventure takes you to colder situations to play along with the Alpha Series jacket.
Waterproofness and breathability – it's all about the right balance.
Waterproofness is measured in millimetres using a Hydrostatic Head test and the procedure checks how many millimetres of water can the fabric withstand before it leaks. The higher this number, the higher the waterproofness level. On the other side, the higher this number, the lower the breathability (imagine wearing a plastic bag – it sure won't allow water to come in but you'll feel like wearing a sauna). The Alpha Series jacket hits the spot in this balance, allowing you to hike in the middle of a hurricane without water leaking in, but featuring high levels of breathability so the experience is flawless.   
Antibacterial shell face
With Covid-19 we all started caring more than ever about hygiene and protecting ourselves against external pathogens. Copper and silver are known for their antibacterial properties and have been widely used to empower goods. Less known is the fact that Graphene is antibacterial as well. By integrating Graphene in the shell face of the Alpha Series jacket, it is putting an extra barrier of protection between you and the world that could inactivate 98% of bacteria and kill over 90% of them even after being washed over 100 times.
The A-team of devices are here
Graphene-X does not cut corners and every single element used on the Alpha Series is literally the best of the best that can found on the market. Every single one of the zippers in the Alpha Series is from YKK (even the ones you can't see) and even though their production lead times is over 90 days and their cost 3-5 times more than the second best of the market. When developing goods like this there's only one way to go.
This little amazing piece of technology can save your life
The main purpose of a jacket like the Alpha Series is to protect you against the elements. Well, the Alpha goes way beyond that. Imagine you are doing some backcountry skiing or venturing into the middle of Amazonas and suddenly weather gets you lost and without any kind of communication with the world. Meet RECCO. RECCO is a reflector which does not need power to operate and which will reflect signals from the rescue mission so they can identify your position. This reflector is hidden inside the hood of the Alpha Series jacket and even though you won't ever see or feel it, it might just save your life.
Wash it properly, it'll last for years and years
Close all zippers
Use a detergent for waterproof clothing (Nikwax recommended)
Do not use softener
Cold water
Use delicate cycle
Dry in shade
Do not iron
Shipping Information:
Gear.com offers free ground shipping anywhere in the continental US for any order of $49 or more. Gear.com orders under $49 ship anywhere within the continental US for a flat rate of $4.95.
​Shipment tracking typically takes 2 - 7 business days to update. We will notify you as soon as your tracking number becomes available. Please be sure to check your promotions, spam or junk mail folders for these updates. Standard shipping takes approximately 3 - 7 business days from the time the item ships. During the Holidays the estimated shipping window is extended to approximately 5 - 10 business days.
Gear.com orders can be shipped from multiple warehouses across the Untitled States and can be shipped using FedEx, UPS, USPS, etc. Some brands have shipping restrictions and cannot ship to USPS PO BOX or Freight Forwarding addresses and will be noted on the product page description. 
International and Expedited Shipping:
​Unfortunately we're unable to promise or guarantee delivery by a specific date and don't offer overnight or express shipping at this time. We also do not currently ship to Alaska, Hawaii, APO/FPO addresses, US territories, or international addresses. Please feel free to reach out to support@gear.com with any questions!
*For Freight-Forwarding Orders please reach out to support@gear.com BEFORE placing your order. Restrictions apply.
--
We want you to know that the Gear.com family is working hard to provide you with exceptional customer service and awesome gear. We are doing our best to process and deliver your order as soon as possible while keeping Gear.com employees safe. Please keep an eye on your email for all order and tracking updates. We'll email you once your order ships. We appreciate your patience and understanding during these unique times. As always, if you have any questions, please reach out to support@gear.com and we'll do our best to assist you!
100% Guaranteed Returns
We understand that not every purchase works out, which is why we offer a 100% satisfaction guarantee. New, unused gear in original packaging and hangtags can be returned within 30 days of purchase for a refund to your original method of payment or for an exchange.
All returns for refund will have a $8.95 restocking fee deducted from the refund amount. If the original method of payment is unavailable, we will issue your refund in the form of store credit.
How to return by mail
Due to high demand, our returns process may take longer than usual. Typically, we will issue a refund within 10 business days after we receive your package. It may take up to 3 additional weeks for your bank to refund your credit card or for a refund check to arrive. Thank you for your patience as we process returns as quickly and safely as possible. Please contact support@gear.com for all return questions.
Follow these three steps to submit your return:
Visit our New Return Portal


To make shipping a return even easier, we have launched a New Return Portal that allows you to submit your return request. After we review your request and have authorization from the return warehouse, you will receive  a prepaid return shipping label via email. 


Please note:

 Oversized items (such as coolers, skis, furniture, large stoves and tents, etc) will be charged an oversized item return fee. Please don't hesitate to ask

support@gear.com

if you have any questions about typical return shipping for an oversized item you may order. 

 
Pack your return


Pack your item(s) securely and include the original product packaging and tags. 

Prepare & ship your package
Tape your package securely and affix your return shipping label to the outside. (Hint: If you cover or remove all existing shipping labels, you can usually reuse the bag or box your order came in.) Drop off your package at a carrier location near you. We'll email you once we've issued a store credit or a refund – typically within 10 business days after we receive your package. It may take up to 3 additional weeks for your bank to refund your credit card. PLEASE NOTE: PREPAID LABELS EXPIRE 15 DAYS FROM DATE WE SEND THEM TO YOU.
To note:
If we have questions about your return, we will contact you by phone or email. 

Returned merchandise that does not meet the conditions of the Gear.com Return Policy will be declined and a refund will not be issued. 

All returns will be charged a $8.95 restocking fee.

All sales are final on gift cards, lift tickets, and passes, as noted at time of purchase.

If you prefer to work directly with a carrier to ship your return, please reach out to

support@gear.com

to request an RMA and return shipping address.
Mail-in return exceptions
Some items cannot be returned via our return portal, including the following:
Hazardous materials

Food items

Oversize items

Some Corporate & Group Sales items
Mail-in return exceptions may apply to coolers, tents, kayaks, surfboards, SUP boards, cargo boxes, car racks, indoor cycles, power stations and more. 
Store Credits
Store credits issued for returned products will expire one year from the date of issuance. 
All other store credits expire 90 days from issuance, including credits issued by our Customer Success team or as part of a promotion.
Manufacturing Defect/Warranty Claims ​
If you experience a manufacturing defect, or it's outside of the Gear.com 30 day return window, please contact the manufacturer directly. Gear.com does not provide any direct warranty services, though your purchase may be covered by a brand or manufacturer warranty. If a warranty claim requires a Proof of Purchase from Gear.com, please contact support@gear.com and we'll be happy to email a copy if needed.